Policy For Responisble Gaming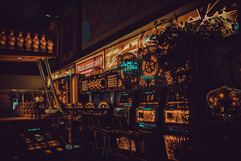 Titan Casino is proud of the fact that the casino give players a responsible as well as enjoyable gaming environment. Obviously, gambling can be fun, but the casino realizes that there are people that have a problem with it. There is a lot of information throughout the site about fair and responsible gaming and the casino is always implementing new initiatives that make sure that there is no underage gambling at the site, there are no illegal players, the software is fair, the casino follows a Code of Regulations for the games and slots tournaments offered, you can prevent family members from using the site, and addresses of gaming support organizations are given.
Titan Casino makes sure their casino is fair, transparent, and very secure. Players can easily access their financial transactions at the casino. The complete history of each player's financial transactions is easily available to them online. the casino carry the reputable Antigua and Barbuda Financial Services Regulatory Commission (FSRC) seal and the casino are Licensed by the Antigua and Barbuda Financial Services Regulatory Commission. The Titan Casino software meets internationally and recognized standards for fairness. Also all of the games are independently tested by TST (Technical Systems Testing), which is a reputable firm that tests the fairness of the games offered.
The casino lays out all the measures in place to curb underage gambling and there is also have a lot of information in terms of gambling in a responsible manner. Titan Casino has several rules on how a player can gamble in a responsible manner. The casino states that players should know all the facts before the casino gamble at the site. This means knowing when to gamble and how much to gamble so it is not a problem. There is some valuable information for gamblers that do have a problem with links to Responsible Gambling Council and Gamblers Anonymous. You can also read much more information on "Staying in Control" and this is useful information for any player that thinks there may be a problem.