Play Online Slots Tournaments At Titan Casino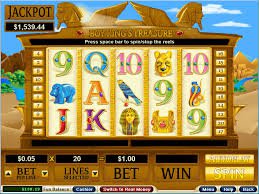 One of the best ways to spice up a game of online slots is to join one of the many online slots tournaments offered at various web casinos. Titan Casino is one particular establishment that offers these tournaments, which allow players to potentially walk away with a bigger payout. There are a variety of different types of online slots tournaments, however, each of which has its own rules, styles, regulations, and buy-ins. Read on for some detailed information about this popular playing option.
One of the reasons Titan Casino boasts some of the most popular slots tournaments in the USA is because many of them are free and fair casino games . These free slots tournaments are typically held once every week, and are largely geared toward new players. However, there are free online slots tournaments for veteran players as well; existing casino members are notified via e-mail about start times and promotional codes that must be entered to waive entry fees. In addition to free entry, these tournaments also offer the opportunity for players to collect additional bonuses along the way. To learn more about the use of no deposit bonus, visit this guide. Besides the bonus info, it will explain to you why slots games are the most prominent casino game, plus you will learn how to take advantage of free spins offers.
In addition to these "free roll" slots tournaments in the USA, there are also a number of VIP slots tournaments. Occasionally, VIP players are also offered free entry to these, though in some cases a small fee still applies. These tournaments generally feature larger jackpots, and are organized according to a hierarchy of different levels. The more you play, the higher you ascend on this VIP ladder, and the higher you go the more generous your perks and rewards will become.
When you decide to join a slots tournament, you'll also want to decide which method of elimination you prefer. Some tournaments feature single elimination methods, while others allow losing players to buy back into the tournament, essentially giving them a second chance. Before you rebuy, you'll want to decide whether it's worth the financial investment, however. Will you feasibly be able to beat some of the existing high scores in the tournament? If not, it may be best to call it quits and try your luck at another tournament on a different day.